Pregnancy Chiropractic at Reese Chiropractic
Safe, gentle and effective—chiropractic during pregnancy is a great choice for moms who want to remain comfortable and have a fantastic birthing experience. If you're planning on starting a family, we encourage you to start care as quickly as possible. In doing so, you can proactively address common issues that may arise, such as
Aches and pains
Carpal tunnel syndrome
Pubic symphysis dysfunction
Sciatica
Furthermore, research supports that chiropractic patients have shorter labor times and less invasive procedures than moms who aren't seeing a chiropractor. Experience the benefits at Reese Chiropractic!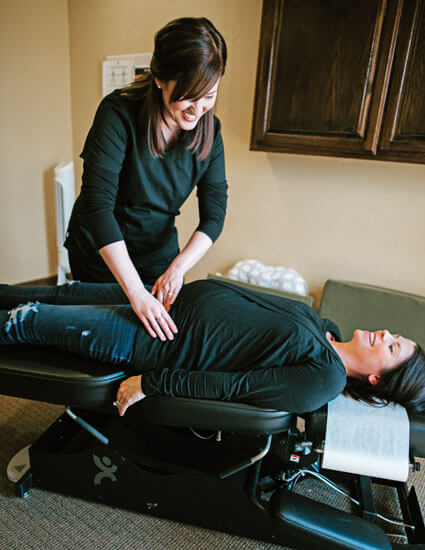 The Webster Technique
Dr. Shelton is certified in the Webster Technique. This method is a specific analyzation process and form of treatment for pregnant women. It looks at your pelvis, ligaments, muscles and soft tissues around the uterus. By allowing the pelvis to be in its optimal position, you can get out of pain and be properly aligned for your baby's birth.
We adjust the pelvis so that the body can do its job as intended. This can help to create optimal conditions for baby's growth and delivery.
Vaginal Birth After Cesarean (VBAC)
Research indicates that chiropractic adjustments using the Webster Technique may have a positive effect on birth outcomes by addressing the three causes of dystocia (difficult labor) – inadequate uterine function, pelvic misalignment, and baby malposition. Many moms come in to Reese Chiropractic during their second pregnancy after their first resulted in a C-section. Whatever your goals for your pregnancy and delivery, chiropractic is a great choice for you as well as your baby,
Expert Care During Pregnancy

As noted by the ICPA, "Webster certified doctors are taught gentle adjusting techniques, individual case management systems and evidence-informed practice to best care for pregnant women." Rest assured that you'll be in good hands with us.
Contact Reese Chiropractic now to set up your first appointment for pregnancy chiropractic Stillwater! We accept most major insurances.
CONTACT US »

Pregnancy Chiropractor Stillwater Perkins, Perry OK | (405) 372-9200