New Patients
Reese Chiropractic is a warm and welcoming place. We've created a comfortable atmosphere where you'll feel right at home. If you're a new patient, you can fill out our paperwork online and submit it directly to us. Otherwise, you can also complete these forms upon your arrival.
When you call us to book your first appointment, we'll discuss your insurance and the costs involved, so that you know exactly what to expect. Bring your insurance card in with you so that we can get a copy of it for our files.
Please use a laptop or desktop computer to fill in our automated forms.
Tablet and cell phones do not submit the information correctly.
For children ages 5 years or younger, please print and fill out the
Children's Application form or we can provide one to fill out in the office.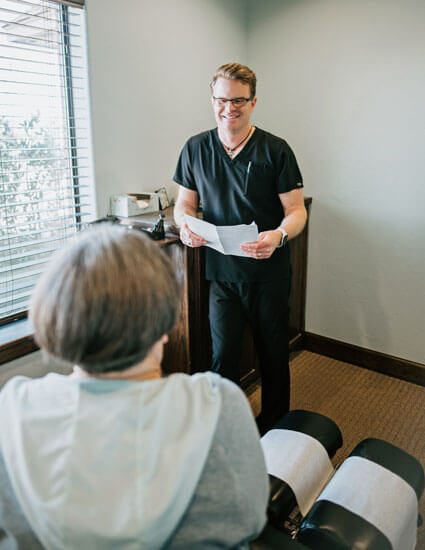 Your First Visit With Us
When you arrive, you'll meet our friendly front desk staff. A member of our team will take your vitals such as height, weight and blood pressure. Then, you'll have a muscle scan test completed on your back, which is quick and noninvasive. Your chiropractor will introduce themselves to discuss why you're here and answer your questions.
The next step will be an orthopedic and neurological examination. The final step in your evaluation process is to have digital X-rays taken. We will immediately go over your examination and X-rays with you. If you're ready to begin care, you'll receive your first chiropractic adjustment and any needed therapies.
This appointment takes about 45 minutes.
Ongoing Visits
Your ongoing visits are efficient, taking an average of 10-15 minutes.
We'll likely see you more often when you first begin care to start making the necessary changes in your body's patterns. As you improve, we'll reduce the frequency of your visits. You're welcome to continue with wellness care, where you'll see us periodically to maintain your health. These visits might be every few weeks, every month or every six months. We'll help you find that "happy place" that's right for your unique needs.
We are in-network providers for most major insurances. Contact Reese Chiropractic today to set up your first appointment!
CONTACT US »

New Patients | (405) 372-9200