Pediatric Chiropractic at Reese Chiropractic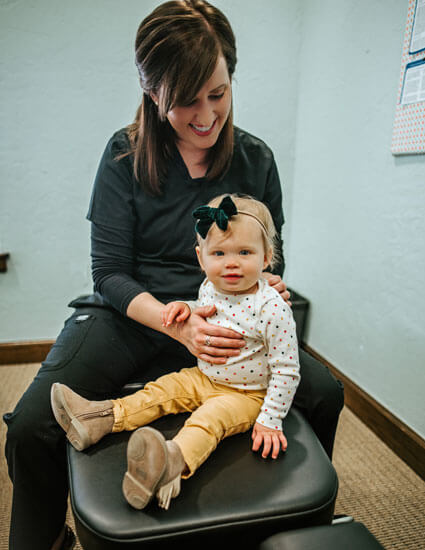 From the moment your baby is born your life changes. During this special time of life, you want nothing more than for your bundle of joy to be healthy. Too often, a baby doesn't sleep as they should, cries too much or has trouble breastfeeding. If so, it's a sign that your infant's body isn't functioning as it should.
As they grow up, there are trips, falls and sports participation that can take a toll on their well-being. Through each stage of life, Reese Chiropractic is here for your family.
The International Chiropractic Pediatric Association
The ICPA, or International Chiropractic Pediatric Association, focuses on promoting chiropractic as a part of a healthy lifestyle for every family. Through this organization, you can read about research that shows the positive impact of chiropractic care on generations of families.
Not only does chiropractic improve general health—it boosts the overall quality of life and your ability to express your full potential. Chiropractic is of particular importance during pregnancy and childhood, as it gives your children the best chance at great health. To read more about the ICPA, visit their website at icpa4kids.com.
Your labor process can have an effect on your baby's health. Whether you were in labor for a short period or a long period, how your body responded when pushing and what happens during delivery all matter. Your infant's head and neck are under pressure even during a normal birth. Forceps, vacuum and other interventions can further affect their bodies.
Though a medical doctor may check out your child and pronounce a clean bill of health, they aren't trained to recognize misalignments in the spine. We recommend that you have your child checked at our office as quickly as possible after birth.
Many parents bring their kids to us because of growing pains. If your child is experiencing these pains, it is a signal that something is wrong in their body. It may result from a growth spurt that the muscles can't keep up with. Their pelvis can be tilted from running, falling or jumping. Flat feet are also a common cause of growing pains. We'll examine each part of their body to determine the cause of their discomfort and make the needed adjustments.
We see many gymnasts, dancers and baseball players at our office. Even at the younger levels of sports, these repetitive activities can take a toll on a small body. We can help them with the negative effects of their favorite activities.
Your child doesn't need to be in pain or have an injury to see a chiropractor. The benefits include boosted immunity, which means they are less likely to get sick when other kids in school do. Chiropractic care can even prevent injuries from occurring since your child's body will be in optimum alignment.
Dr. Shelton treats every child she sees like they're one of her own. The first time she brought her daughter to a chiropractor, it occurred to her the incredible trust she was placing in this practitioner. She considers it an honor and privilege to gain your trust. Here, you can read about some of our pediatric success stories that we're proud to have played a part in.
A Birth-Related Shoulder Injury

One of Dr. Shelton's patients was an eight-hour-old girl. When she was delivered, her left arm came out first, causing a shoulder injury. As she was unable to eat or latch, her parents were understandably worried. Dr. Shelton adjusted her and showed the mom some exercises for the baby to do. The little girl responded positively and could eat normally again.
Constipation in Newborns and Older Children

A surprising number of infants and kids come in with constipation. One eight-month-old patient hadn't had a bowel movement for eight days. After an adjustment, Dr. Shelton handed the baby back to her mom. The baby immediately filled her diaper!
Genetic Disorder and Scoliosis

Another patient was a child with a rare genetic disorder that results in poor muscle tone. Due to his condition, he developed scoliosis. When he first became a patient, the child was unable to move on the adjusting table. Now, he can roll over, which makes a tremendous difference to him. His scoliosis has been much improved.
Umbilical Cord-Related Troubles

Dr. Shelton's son was born with the cord wrapped around his neck. The day he was born, Dr. Shelton noticed her son wasn't opening his mouth or sucking due to a jaw injury from the umbilical cord. After an adjustment, he was fine and eating as a newborn should.
Contact Us to Learn More

Dr. Shelton is a member of the ICPA and is certified by the Academy Council of Chiropractic Pediatrics and has obtained her CACCP, being recognized as a Prenatal and Pediatric chiropractor. She is also certified in Webster Technique.
Find out more about what we can do for your family. Contact us today to schedule a consultation for pediatric chiropractic Stillwater!
CONTACT US »

Pediatric Chiropractor Stillwater, Perkins, Perry OK | (405) 372-9200